Rebecca Skeels started her business in 1994 after graduating from the University of Wales. Since 1994, Rebecca's thirst for knowledge and her passion for sharing has led her to graduate from Central Saint Martin's (MA Project by Design) and achieving a PGC in Higher Education from the University for the Creative Arts. Rebecca is a Senior Fellow of the Higher Education Academy.
As a designer maker, Rebecca's work has exhibited across Europe, in the US and in China. She continues to explore ideas and work collaboratively with like-minded designer makers of different disciplines utilising different materials. In parallel, Rebecca's enthusiasm to encourage others to learn and to be creative has led to her current position as Course Leader for Postgraduate courses in Craft at the University for the Creative Arts.
Rebecca's position as a design maker, leader of craft courses and as an active member of the UK's craft industry, provides her with a unique perspective on education and requirements for the future of 'the crafts'. Her interests allow her to continuously develop craft education to enable more inclusive learning experiences which are adaptable to the students' abilities, and her exploration of 'other' materials and processes from different craft disciplines provides an extensive view of the industry.
Materials are her obsession; bridging her work as a designer maker and her role as an educator. Materials and their related processes determine not only the form and function of an object, but also the object's interaction with the surrounding environment, connecting with personal memories and associations. The use of materials within Rebecca's own work can be fun, contradictive, functional and thought provoking. The knowledge of other craft sectors has led to the exploration of traditional techniques and processes, along with new technologies and digital processes, developing current and future craft practices.
Soldering for Jewellers became available in 2017, published by The Crowood Press. Soldering is one of the most commonly used processes in jewellery, but its potential is often overlooked. This practical book explains the basics of the method but goes on to suggest ways in which soldering can be used to explore ideas and produce unique pieces. Written both for beginners and for those wishing to extend their knowledge, Soldering for Jewellers will inspire a more creative use of this key process.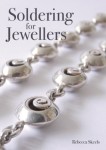 Makers and craft organisations across Farnham – which was designated as England's Craft Town in 2013 – are getting set for a month of craft festivities. Each October, Farnham hosts a celebration of craft with hundreds of opportunities to get involved with events featuring countless makers, pieces, organisations and venues, throughout the town. This is your chance to see makers in action; take a craft walk; get making and buy work from local designer makers.
Farnham Craft Month celebrations have been growing steadily each year and for 2019 the initiative has the backing of Arts Council England which has helped fund some new activities including a Clay Feast and proposals for a new sculpture in the town centre to celebrate Farnham and its craft heritage. As well as showcasing new talent and local craft businesses at various venues across the town, Craft Month also offers the opportunity to join in networking opportunities and discussions at conferences, symposiums and workshops, and the chance to see and take part in various craft activities that are usually kept behind closed workshop doors.
For more information about Farnham Craft Town and this year's programme of events you can visit: www.crafttownengland.org or follow Craft Town on social media.
If you are running a craft event in or around Farnham during October and would like to appear in this year's online listings then please enter details on the events section of the Farnham Town Council Website: https://www.farnham.gov.uk/add-event-listing – Don't forget to select 'Craft Town' as your category.
More can also be seen on the FARNHAM CRAFT MONTH 2019 page on this site.